Trips are available all year round to visit Flat Holm, from day trips to longer stays.
There are pre-organised  boat trips to the island that depart from Cardiff several times a month. The trips allow you up to three hours on the island, depending on tide times.
Alternatively, you can tailor your own visit if you have a large group or would like to stay for a long day or overnight.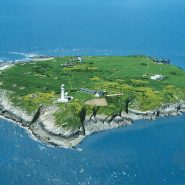 A short day visit to Flat Holm provides up to three hours on the Island and offers a unique opportunity to see Flat Holm's conservation, wildlife and historic buildings.
Day sailings to the Island can be booked with these operators:
Bay Island Voyages
07393 470476
Cardiff Cruises
0845 489 6969
A landing fee of £5.00 for adults and £2.50 for children is payable to the warden upon arrival on the island.
Please contact the boat operator regarding boat fares.
Overnight stays and residential visits
Dormitory accommodation is available in our farmhouse field centre, which can sleep up to 24 people (two, 10 and 12 bedded rooms).
Camping will be available in the farmhouse paddocks when the dormitory accommodation is fully booked (tents not provided).
The Grade II Listed Fog Horn Cottage has been converted into a self catering cottage, offering a stylish double bedroom, twin bedroom, lounge with double sofabed, two toilet/shower rooms, fully equipped kitchen, and dining room with table and chairs for six. The cosy cottage also boasts a biomass boiler for heating, front and rear entrance, and private garden with stone BBQ and inspiring views.
Furnished in partnership with John Lewis Cardiff, this is the ideal place to get away from it all.
To book a residential visit, please contact:
The Flat Holm Booking Office,
Cardiff Harbour Authority,
Queen Alexandra House,
Cargo Road,
Cardiff Bay
CF10 4LY
Tel: 029 2087 7912
Landing fee
Adult: £5
Children: £2.50
Residential Visits
Adult: £19 per night
Children: £16 per night
Camping Charge
Adult: £8 per night
Children: £7 per night
Additional visitor information
Adult supervisors are required for children's groups. The adult to child ratio varies, depending on the type of visit and the age of the children. Please contact us for details.
Groups are required to supply their own food.
We do not offer concessionary rates to pensioners, students or unemployed persons.
Dogs are not permitted on the Island.