Trips are available all year round to visit Flat Holm, from day trips to longer stays.
There are pre-organised  boat trips to the island that depart from Cardiff several times a month. The trips allow you up to three hours on the island, depending on tide times.
Alternatively, you can tailor your own visit if you have a large group or would like to stay for a long day or overnight.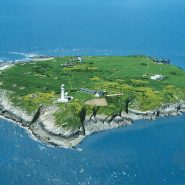 A short day visit to Flat Holm provides up to three hours on the Island and offers a unique opportunity to see Flat Holm's conservation, wildlife and historic buildings.
Day sailings to the Island can be booked with these operators:
Bay Island Voyages
07393 470476
Cardiff Cruises
0845 489 6969
A landing fee of £5.00 for adults and £2.50 for children is payable to the warden upon arrival on the island.
Please contact the boat operator regarding boat fares.
Flat Holm Island offers everything you need to explore the exhilarating world of outdoor education. Our aim is to offer Flat Holm Island as an environmental education facility, while still conserving the Island as a nature reserve.
Whether you are looking for an educational day visit or longer we will aim to cater for your needs.
Day visits include a general tour of the Island exploring its history and wildlife. Alternatively, if you are looking to complete a certain topic area we can work with you to provide some shorter education based activities. We can also develop a programme of activities for groups staying on the Island for a few nights.
We welcome university groups to carry out their own programme of studies in a range of areas, e.g. biology, marine studies, geology, art.
Please contact us on 029 2087 7900 for more information or to discuss your educational requirements.
Additional visitor information
For essential information on how to keep our island safe – Biosecurity 
Adult supervisors are required for children's groups. The adult to child ratio varies, depending on the type of visit and the age of the children. Please contact us for details.
Groups are required to supply their own food.
We do not offer concessionary rates to pensioners, students or unemployed persons.
Dogs are not permitted on the Island.