Biosecurity refers to the action taken to protect areas from invasive predators and plants.
Invasive predators and plants could cause serious harm to predator-free islands. Our bird species have evolved to nest on the ground or in burrows, as their island home has always been free of land predators. The arrival of predators on Flat Holm could therefore have a devastating impact on such species.
A popular visitor attraction, Flat Holm Island is home to many protected species, such as the lesser black-backed gull. For the island to remain an enjoyable and safe place for wildlife and visitors, it's crucial that biosecurity measures are taken seriously. Failing to meet these measures would put Flat Holm at great risk of infestation from rodents, for example. The removal of such infestations would be very time consuming, costly and could cause irreversible damage to the island's environment.
Why is biosecurity important?
Biosecurity measures are in place to protect Flat Holm's wildlife from predators, such as rodents, Japanese knotweed and other invasive plants, all of which could have seriously damaging effects. Predators eat gulls and other ground nesting bird eggs, which could wipe out the protected gull population on the island in a few years, due to the rate that rodents breed. The impact of knotweed is also severe, as it could damage the island's buildings and even overrun grassland habitats. This is why it's important that these measures are taken seriously and dealt with professionally.
Although most of the work is dealt with by professionals, there are still ways in which you can assist. Whether you're on a visit to Flat Holm or a boat trip around Cardiff Bay, you too can contribute.
Remember:
Please do not bring food on a boat if it's not in a sealed container.
Do not leave bags open and unattended on the journey.
Respect Flat Holm and the Bay area and do not litter or leave food behind.
If departing in your personal boat, please follow the measures and check for stowaways before setting off.
If a rodent or mink is spotted during a boat trip, you must return to the dock where the situation can be dealt with. Do not throw it overboard or land at Flat Holm with it still aboard. The presence of rodents and mink can be prevented by installing traps or using poison.
There are many measures which must be met. Here are the most important ones:
Checking boats for rodents and mink.
Checking cargo for rodents and mink.
Making sure that no fishing bags are left out overnight for rodents to hide in.
Monitoring key areas for rodent and mink damage/activity and droppings.
Searching for the presence of knotweed, and, if found, reporting it.
Not leaving food on or around boats travelling to Flat Holm.
Flat Holm is designated a Site of Special Scientific Interest and Local Nature Reserve. The Project conserves the Island's natural and cultural features, from maritime grassland and Victorian barracks, to seabird colonies and wartime bunkers.
Both the lesser black-backed gull colony and the maritime grassland are considered important for nature conservation. The Island is managed in two separate ways for these features. The north side of the Island is managed for the grassland and maritime species, and the south side is kept as the gull colony, with coppicing taking place during the winter months.
The Flat Holm Management Plan outlines the important features of the Island. It provides a basis from which to improve the island's habitats.
In 1982, the Flat Holm Project was established. The aim was to manage Flat Holm as a local nature reserve and to encourage visitor access and opportunities for education.
The Island has a long and varied history, having been used by man since prehistoric times. It was farmed for some 800 years and stopped in 1942. It has been fortified twice, most recently during the Second World War. The Island has many buildings and structures of historic interest, many are listed buildings and scheduled ancient monuments.
Flat Holm's natural history and geology are both interesting and important. Some of the notable features are:
• Coastal limestone grassland.
• Cliff ledge habitats.
• Wild leek.
• Colony of breeding lesser black-backed gulls.
The following is a list of some of the species that may be seen on the Island throughout the year: Birds: shelduck, oystercatchers, rock pipits, finches, turnstone and dunlin; Animals: rabbits, slow worms, common lizard and butterflies; Plants: wild leek, wild peony, thrift, rock sea lavender, sea campion and bluebells.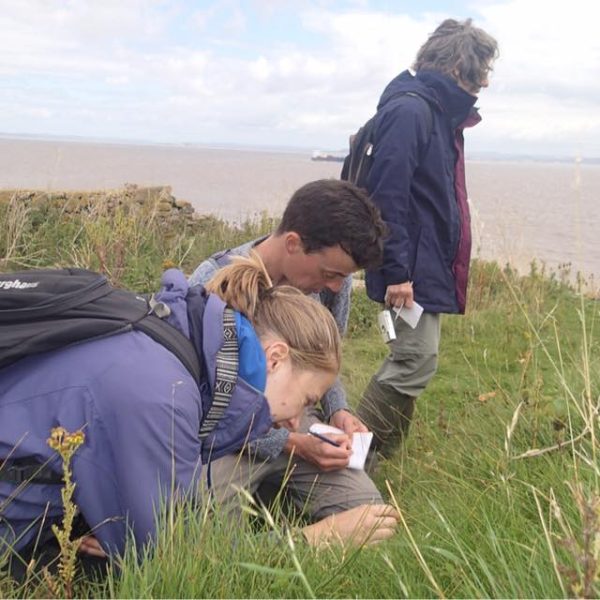 The Flat Holm project aims to be a showcase of sustainable technologies. The original power supply consisted of several diesel generators at different properties, which were unconnected.
In 2006/2007, a 'mini-grid' between the farmhouse, workshops and the fog horn keeper's cottage was installed. This is powered by a battery bank charged by two photovoltaic solar arrays, and by a 6kW wind turbine, sited at a redundant telecommunications tower on the high point of the Island. The Island is currently able to generate 90% of its electricity from green sources, reducing its carbon footprint.
The sustainability continues because there is no natural water source on the Island, and as a result rainwater is collected from the roofs of the buildings. This is stored in the underground Victorian water tank and pumped through a UV filtration system.
A solar water heating and biomass boiler provide the Island with most of the hot water and heating that it needs throughout the year. Driftwood collected from the shore is dried out over a year, and used to fuel the boiler, reducing the need to transport wood from the mainland.